Top Trends of Spring 2022
Top Trends of Spring 2022
What a long, strange trip it's been. Forgive the Grateful Dead allusions—perhaps the runway's super-psychedelic theme is influencing us, or the fact that it has, in fact, been quite a trip these last months. Either way, the trends don't stop at swirling Cali cool. In person, actual models stomping in the latest creations from storied houses and new designers alike returned in earnest for spring 2022 and brought with them bridal vibes, fringe, bra tops, catsuits, and abs. See what else the catwalks have in store for next season and get a head start on shopping what's new now.
Laurel Canyon Kids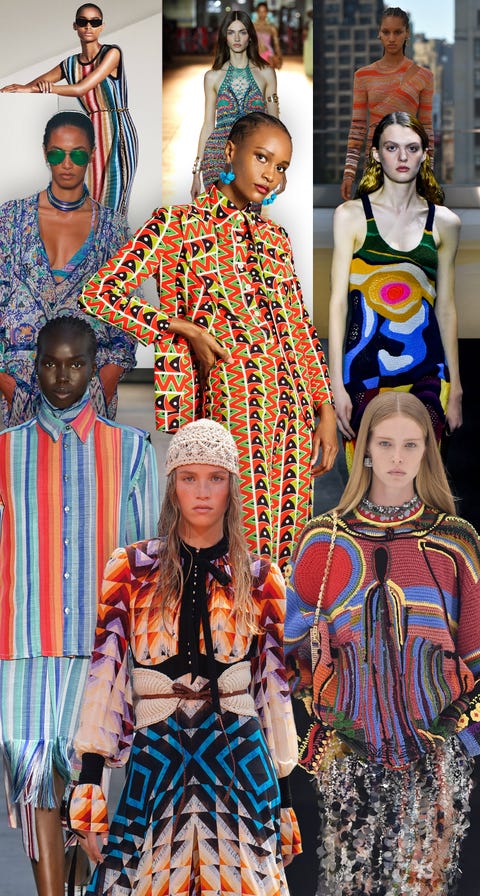 From swirling, psychedelic prints at Gabriela Hearst and Givenchy, to vibrant, sunset-hued knits at Isabel Marant and Paco Rabanne, the runways served as a love letter to color-wonderful hippies of a bygone era. But lest you take this as a literal throwback, take note of interesting shapes, proportions, and weaving techniques that make these looks inescapably for here and now.
Pictured clockwise from top left: Loro Piana, Etro, Jonathan Simkhai, Gabriela Hearst, Givenchy, Paco Rabanne, Kenneth Ize, Isabel Marant, Duro Olowu.
Catsuit Riot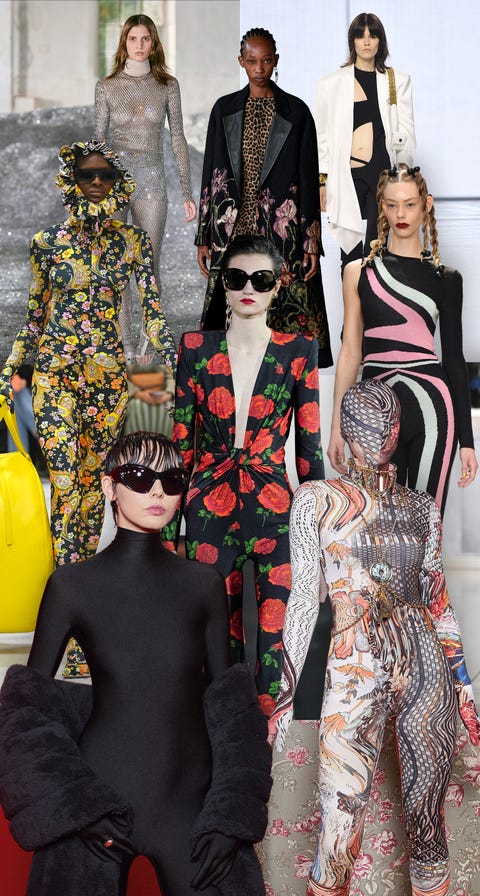 Whatever it may lack in keeping secrets or holding car keys, the catsuit more than makes up for in sheer novelty and ease of movement. All-in-ones spotted at Roberto Cavalli and Victor Glemaud felt like a brand-new approach to getting dressed and showcasing your best assets—whether that be covered in sparkles à la Burberry, in a full-on blackout as seen at Balenciaga, or a garden variety floral at Collina Strada.
Pictured clockwise from top left: Burberry, Roberto Cavalli, Balmain, Victor Glemaud, Marine Serre, Balenciaga, Collina Strada, Saint Laurent
Bride Vibes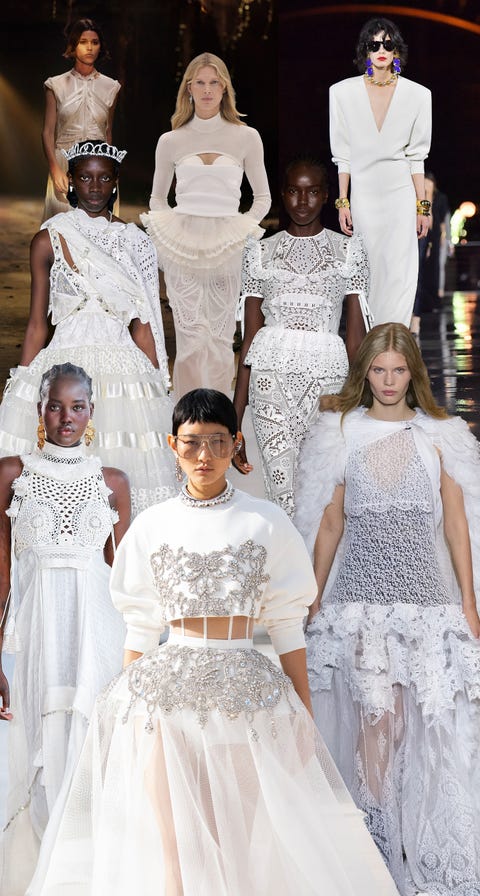 Even if saying "I do" isn't on your 2022 agenda, that doesn't mean there won't be reason to show up and show off in all white. That dreamy notion was seen on the runways of Givenchy, McQueen, Vuitton, and more, where ethereal gowns made dreamy entrances—no "Pachelbel's Canon" required.
Pictured clockwise from top left: Khaite, Givenchy, Saint Laurent, Louis Vuitton, Alexander McQueen, Altuzarra, Simone Rocha, Erdem.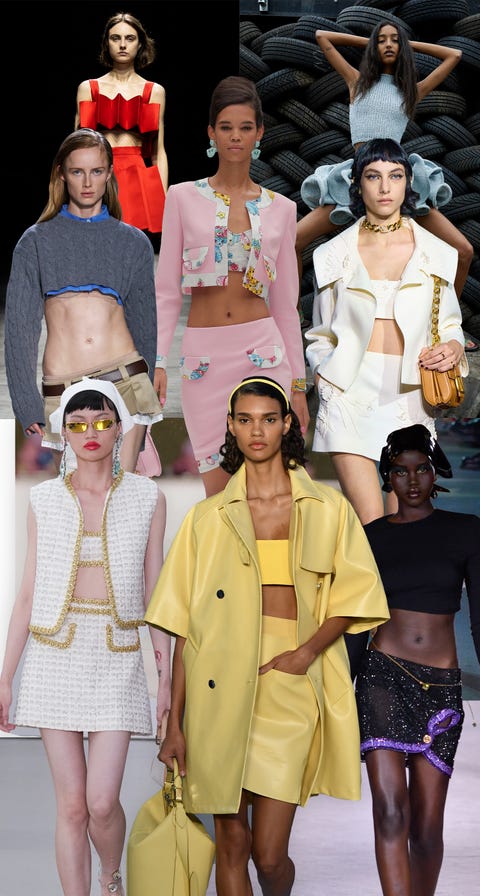 Perhaps it's what the age of virtual workouts has wrought, but there's no denying designers' commitment to showing off some midriffs. From Y2K schoolgirl prep at Miu Miu to vibrant '60s brights at Max Mara and Moschino, and glam '80s allusions at Versace, the only question that remains is simply this: Why cover your belly when you can show it off?
Pictured clockwise from top left: Christopher Kane, JW Anderson, Valentino, Versace, Max Mara, Giambattista Valli, Miu Miu, Moschino.
This season is marked in part by the very best clothes to party in. And nothing hits the dance floor in quite the same way as some fringe (ahem, Roaring '20s). Dresses at Rodarte, Dries Van Noten, Ferragamo, and Proenza Schouler leveraged the ASMR-soundtracked movement a good fringe dress can elicit. Not that you can hear it over the DJ.
Pictured clockwise from top left: Salvatore Ferragamo, Rodarte, Fendi, Proenza Schouler, Oscar de la Renta, Christian Dior, Giorgio Armani, Dries Van Noten.
Business School Dropout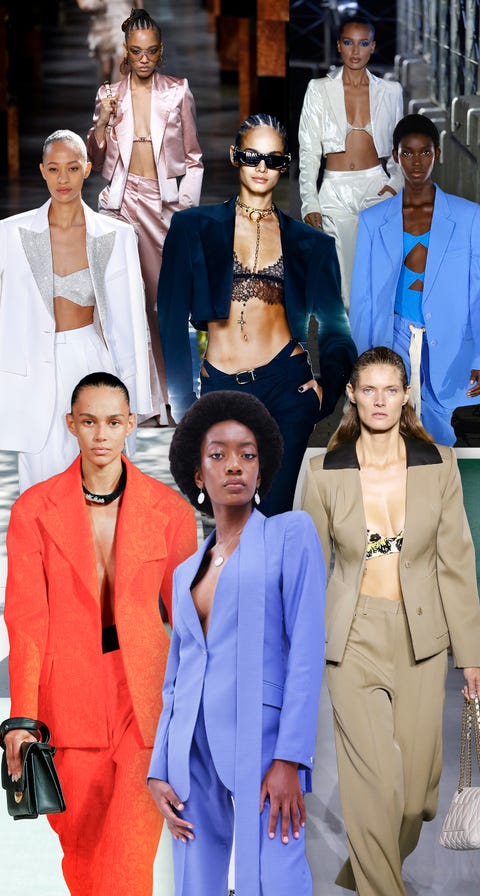 Dolce & Gabbana, LaQuan Smith, Michael Kors, and Fendi all got the memo: Suiting is made to pair with bras and bikini tops. Maybe we spent so many months away from offices, designers decided that when the return to work happens, it needs to look a little different—and dare we say, sexier? Whether these suits and bras are built for the board meeting or dinner out, there's no doubt they're statement making.
Pictured clockwise from top left: Fendi, LaQuan Smith, Stella McCartney, Lanvin, Thebe Magugu, Proenza Schouler, Michael Kors Collection, Dolce & Gabbana.
These contrasting combinations are many things, but basic isn't one of them. Done up in stripes and polka dots, the current approach to black and white is graphic, yes, but it's also playful, bold, and, in short, head turning. Tory Burch's corseted dress felt like a workwear revelation, while Schiaparelli's disco-worthy top and skirt were a louche and luxe approach to evening, and Balmain's maillot and statement-shoulder blazer, done up in spots, was a return to the '80s we can get behind.
Pictured clockwise from top left: Jil Sander, Schiaparelli, Comme des Garçons, Balenciaga, Carolina Herrera, Tory Burch, Marni, Missoni.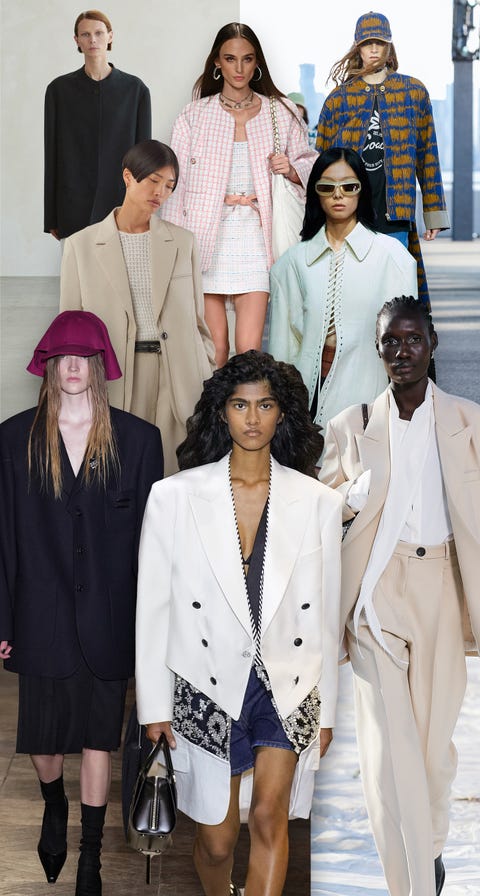 The Row, Prada, Chanel, Peter Do, and Raf Simons all support the notion that the bigger the jacket, the better. Why bother with anything so unhinged as a too-tight topper? Instead, leave yourself room to be, room to grow, room to layer, room to ruminate in blazers that find their power in pure volume.
Pictured clockwise from top left: The Row, Coach, Prada, Peter Do, Louis Vuitton, Raf Simons, 3.1 Phillip Lim, Chanel.
The Shorts Story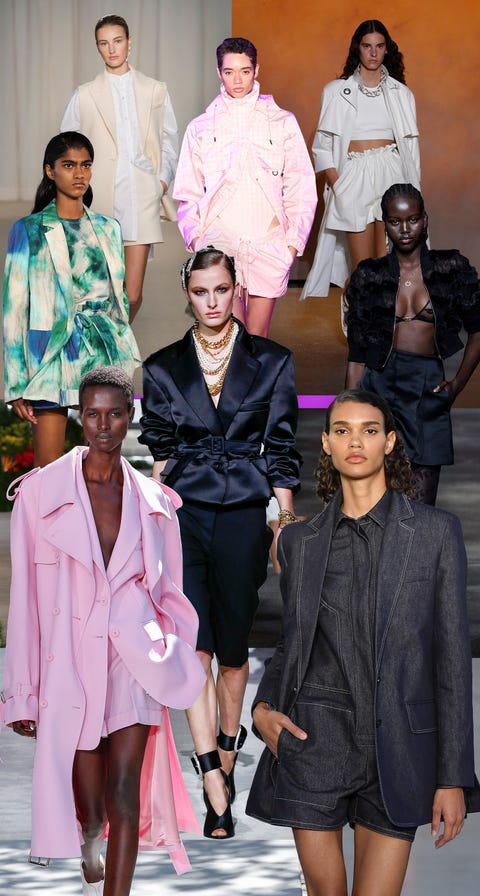 Come spring, the look in shorts is less laid-back denim cutoffs, more polished and tailored shorts ensembles. Adam Lippes, Hermès, and Fendi are just some of the designers who embraced a more structured approach to having legs, knowing how to use them.
Pictured clockwise from top left: Adam Lippes, Brandon Maxwell, Hermès, Fendi, Max Mara, Michael Kors Collection, Jason Wu Collection, Tom Ford.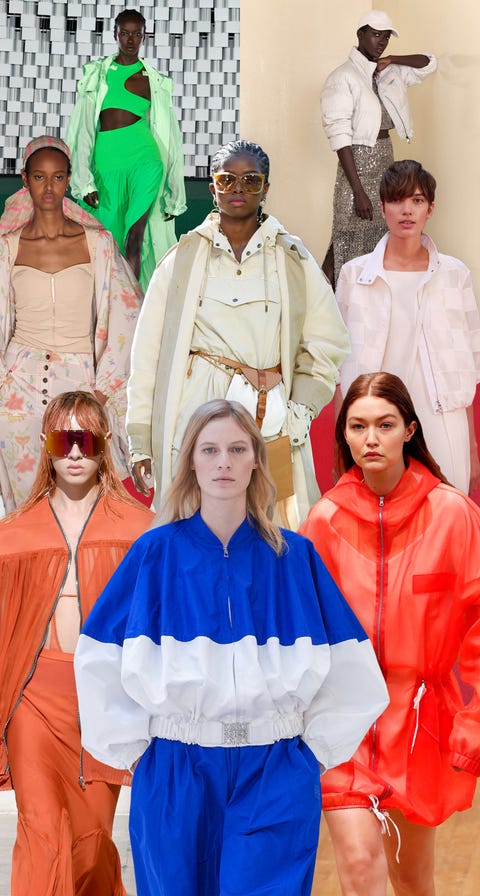 The past couple of years saw many changes in the fashion ecosystem, but none quite as impactful as our communal, widespread commitment to leisurewear. In short, ladies really know their way around some chic athletic gear, so designers need to bring their A games to impress in this particular category. Tod's, Loewe, Stella McCartney, and Rick Owens were just some of the labels that, well, brought it.
Pictured clockwise from top left: Stella McCartney, Brunello Cucinelli, Akris, Tod's, Loewe, Rick Owens, Prabal Gurung, Ulla Johnson.
Big Pants, Big Plans